Our Services:
Being an independent consultant, Select Services will act for you in establishing consultancy projects.
Select Services acts as employer for sub-contracting companys and individuals. You will therefore be employed by Select Services.


We will establish an employment contract for you that will allow you, as a contractor, to take advantage of similar benefits as to being self-employed, but with the status of an employed worker taken on by an employer.


The hiring company has no personnel management or contract management responsibilities; it is invoiced for the service completed by the contractor.
Select Services helps to ensure that you receive the best possible net pay and gives you the opportunity to claim allowable business expenses.
Your advantages:
You, as a contractor, work as if you were self-employed:
You seek out clients and decide with the client company how the job is to be done, the terms that will apply, the duration and the cost of the mission
You determine yourself when you work and when you don't.
You are free of all administrative, legal, and fiscal constraints
You are guaranteed agreed remuneration
You are an employee of Select-Services
Your social requirements (illness, retirement, unemployment, child benefit, insurance) are covered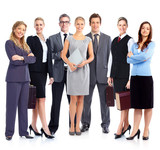 Select Services as an Umbrella Company:
1. The consultant and the client company directly negotiate the terms of contract (service contract, goal, duration, fee)
2. The consultant is employed by Select Services
3. Select-Services invoices the client company for fees corresponding to the services completed by the consultant
4. The consultant receives his fee as salary from Select-Services , after deductions for social and payroll taxes.